Being a missionary is not a normal life. We didn't expect to have one anyway. The lives of Paul, Barnabas, and Jesus were not normal. We've said farewells to many of our friends at the airport after they come to visit us and we've said it to many in Togo when we are leaving to travel. But the hardest one was that of April the 15
th.
After we decided that my wife will stay in the States during the pregnancy of our first birth after 9 years of marriage and I will go back to take care of things in Togo. We were in Washington D.C. during the weekend of the cherry blossom festival. We had a good time but when it came time for me to leave…well…it was the hardest "bye bye" for both of us. We were separated from each other for 4 months!! All I have to say is that we have been through so much that it strengthened us to do what we needed to do. Now I'm back and having a great time with my wife who is now in her 35th week of pregnancy!! Yeah!!!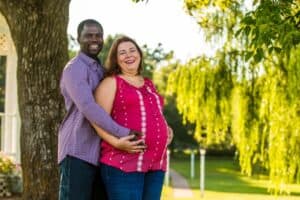 Thank you Su for this awesome picture!!
We want to update you on the 4 months in Togo and some of the 4 months Amy had in the US. So here we go!!
Sarah & Jacob
Sarah and Jacob are two college students who came to visit us and were part of our ministry this summer. For 7 weeks, they did everything from cooking, leading devotions, playing with the students at school, fetching water and carrying it on the head for my mom in the village. We had a great time.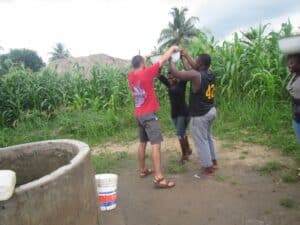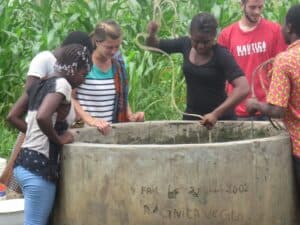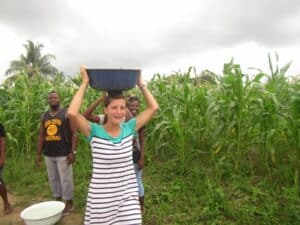 So heavy!!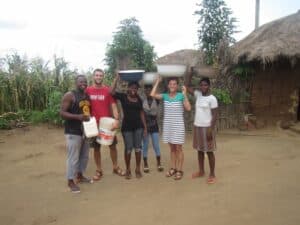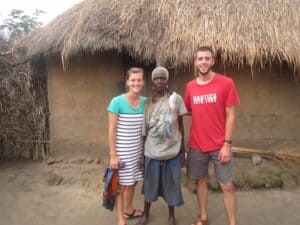 Sarah and Jacob with Bruno's grandmother










Closing Program
We did our usual closing program where we have a nice meal and proclaim the final results for the children. However, the biggest highlight of our school closing program this year was the basketball game where our students were able to play with the Town's team. This was the first time our school teams have ever competed in a game. Our boys beat the town boys' team 22 to 18 and their girls beat our girls 16 to 6. We want our school not to be just spiritually and academically the best school in Togo, but also help shape our students' character through sports. This coming year God willing we will start weight lifting for the boys and girls age 13 and up.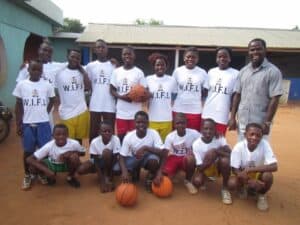 Update on the building project.
The 3 classrooms we are building are almost done and ready to be used. We want to thank all of you who gave and helped with this project! Pictures speak louder than words so here are a few for you to see.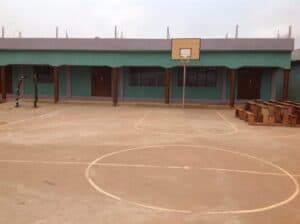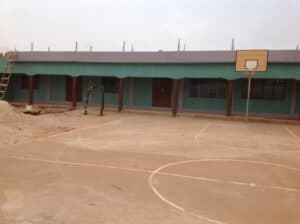 Our dad
We came to the states in February to spend time with my father-in- law who was diagnosed with cancer. We are sad to say he left us to be home with the Lord on June the 15th. Though we grieve we rest assured of the hope of resurrection, Jesus said: " I am the resurrection and life, he who believes in Me, though he dies, shall he live."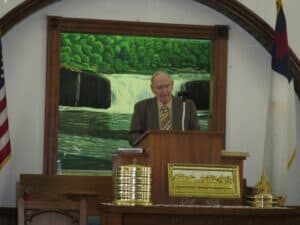 Harold William Morris
We miss you so much!
Summer Camp at Park Springs!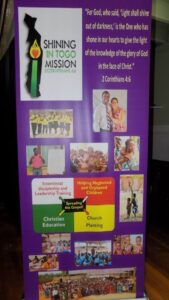 Since Bruno and I would be separated for so long I was wondering what work I can do to help pass time. Just a few days after talking about it with my sister-in-law, I got a call with a possible opportunity for Shining In Togo Mission to be the camp's mission for the summer. Everything worked out and I was able to spend half of the separation from Bruno at Park Springs Christian Service Camp. The staff was awesome! They each learned about what we do in Togo and helped me share it with the campers! Donald, the camp manager, camp up with these awesome t-shirts for the campers!! I had such a great time and was so thankful for the campers generosity and love for Togo! Thank you all!!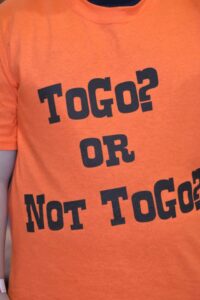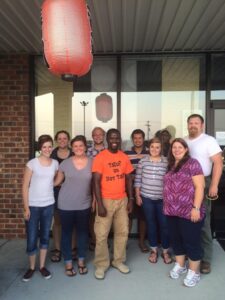 Bruno got to meet the staff just a few days after arriving back in the States!
First Wedding
As an Evangelist, I like to say it was an honor for me to officiate a wedding ceremony for the first time. It was so exciting because it was a wedding of 2 very dedicated disciples of my wife and I, their commitment to the Lord and to each other is fascinating and we can't wait to see how the Lord is going to honor their faith and the example they set for the rest of the youth of our Church. God is good! He is so good!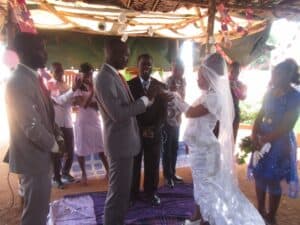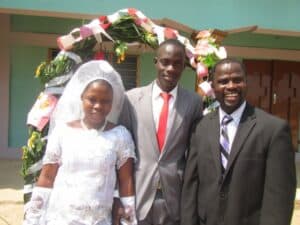 Chicken Farm
Our chicken farm is growing a lot. We went from 500 chicks last year, to now 2460 (of which 460 are still laying eggs), 7 goats, 30 pigs, and over 100 local chickens (these are strictly to sell for meat) on the farm. Our goal is to have 5,000 birds by the end of 2016.
Koko is doing such a great job taking care of the farm. He has 3 people learning from him now, 2 of whom he is doing Bible studies with a view to win them to Christ. Koko has learned about intentional discipleship and we love that he is putting it into practice on the farm. One of our students, Samuel, age 13, is also staying at the farming learning and helping this summer.
The whole idea of starting the chicken farm is to first of all provide good nutrition to the children and orphans in our program and also help sustain the ministry so we don't depend 100% of supports coming from the US.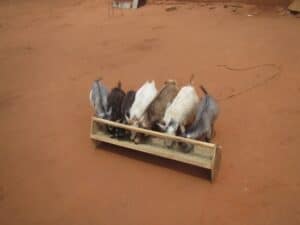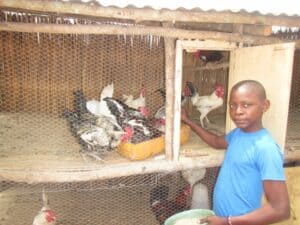 One of our students helping at the chicken farm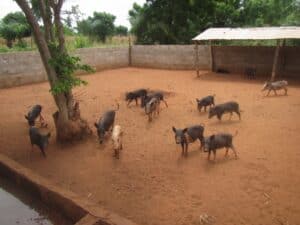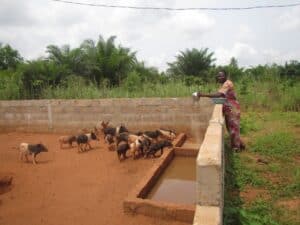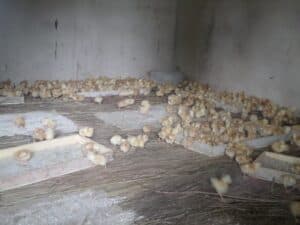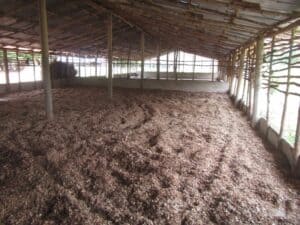 Here are 2 biggest needs for the chicken farm:
– A grinding machine:
We want to start making our own chicken feed. We figured that the money we spent going to the town from the farm to grind and make feed for the chickens will hurt the entire operation in the long run. So the smart thing is for us to have our own grinding machine. This will cut down costs on transporting the ingredients to the town to make the feed and take it back to the farm. Right now we try to make feed that will last for 10 to 14 days, which really is not that great, because after 7 days some of the feed has mildewed. With the machine we can make the feed when we need it and it all will be fresh. The machine is available and can be purchased in Togo. Estimated cost $10,000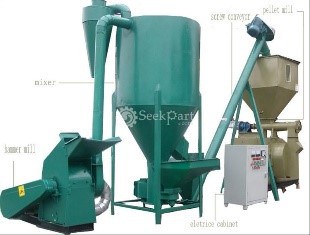 -A cargo van/truck:
We go to Lome (the Capital City) to buy supplies for the chicken farm, business ladies come from Lome to buy eggs from us $4 for a crate of 30 eggs and then go and resell it for $5. With this cargo, we will load our eggs directly to the market in Lome and make more money and in return get supplies thus killing 2 birds with one stone. Estimated cost on the van: $25,000.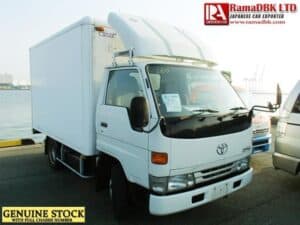 We have so much more to share but we will save that for the next post! We love all of you!